Flagstaff Onsite Truck Repair
Flagstaff Onsite Truck Repair – Truck Repair Services – Flagstaff, AZ
Flagstaff Onsite Truck Repair is a 24-hour heavy duty truck and trailer repair company in Flagstaff, AZ. We are a one stop shop for all your onsite repair needs. Our highly trained and certified technicians will come to you day or night to get you back on the road. We accept all major credit cards and offer financing options to make your repairs more affordable. Call us today at (928) 399-7867 for a free estimate!
About Flagstaff Onsite Truck Repair
At Flagstaff Onsite, our mobile truck repair services keep your industrial vehicles running like clockwork. We work on big rigs, farm equipment, city machinery, buses and more – and because we're mobile, we come to you. This saves you time and money by avoiding towing costs. Plus, our staff is fully trained and certified in what they do best – repairing trucks quickly so that you can get back on the road as soon as possible.
For a free estimate, or to schedule an appointment, please call us at (928) 399-7867.
Flagstaff Onsite Truck Repair Services
24/7 Emergency Roadside Help
You can call us 24/7 whenever you need assistance, and one of our tow trucks will be on its way to help. More often than not, we are able to fix the problem right then and there so that you don't have to wait long at all. This is only a small part of what differentiates us from other truck and trailer repair companies out there–namely, our dedication to providing the best possible service.
Parts For Your Truck (Lots of Em!)
Here at Flagstaff Onsite Truck Repair, we understand how critical it is to get big rigs up and running again. Our team of skilled workers is dedicated to working quickly and efficiently in order to reduce both the cost and the amount of time the truck is out-of-service. We're authorized vendors for many reputable trucking companies; this allows us cheaper access to purchase parts–a saving that we happily pass on to our customers.
These include, but are not limited to:
Reefer unit parts

Hoses and belts

Radiators

Transmission parts

Engine parts

Hitches and latches

Air, oil, and fuel filters
You won't be stuck for long with our team here to help. Don't panic when your rig breaks down–just give us a call at (928) 399-7867.
Fleet Maintenance
At our shop, we focus on preventive maintenance to keep your fleet running smoothly. When you choose us for your fleet needs, you're also getting:
Fully certified mechanics

Flexible appointment scheduling

Competitive rates

Peace of mind that comes from knowing your vehicles are being well cared for.
For a free estimate on our services, please give us a call today at (928) 399-7867.
Brake Systems
The Flagstaff Onsite Truck Repair team is aware that your commercial truck's brakes are key for safety. To keep your truck running as it should, we provide various brake services–from easy repairs to complete replacements. Our team stays current with the latest technologies so you don't have to worry about whether or not your brakes meet industry standards. 
We understand that different trucks require unique solutions because one size does not fit all when it comes to brakes. So, whether you need new pads, rotors, or shoes, we will ensure that your truck's brakes are up to par before sending you on your way.
Our team can fix any sized industrial vehicle. It's what we do for working men, because that's who we are, and that's who we care about.
Engine Diagnostics & Repair
If your truck is in dire need of some maintenance, contact us. Our highly-skilled team can change your oil, compression test and even replace gaskets. Plus, we're always up-to-date with the latest methods to keep your vehicle running smoothly. You can trust that it's safe with us.
Understandably, having truck trouble is stressful. But don't worry–our team of qualified mechanics will come to you with all the tools necessary to fix your engine efficiently and correctly the first time. We'll start by running a diagnostic on your car's engine using our computer system. Once we identify the issue, our mechanics will get right to work repairing or replacing whatever parts are needed so that your engine runs as good as new again. So sit back, relax, and let us take care of everything for you while you wait comfortably nearby.
Transmissions
At our transmission shop, we fix all truck transmissions–no matter how many gears. With a team of experienced professionals, your truck will be running again in no time. Clutch packs? Outboard shafts? Torque converters? We know everything about every part related to transmissions. If you're experiencing any problems with shifting today, call us now.
No need to have your truck towed anywhere–we'll come to your location to work on any kind of transmission you use. And we schedule our service around what's convenient for you. Call us at (928) 399-7867 today!
Suspension
At Flagstaff Onsite Truck Repair, we specialize in car shocks, struts, joints and more so that your ride is always smooth. Plus, our mobile trucks come to YOU- so you don't have to leave home. Our mechanics are experienced and will make sure that everything is running smoothly.
At Flagstaff Onsite Truck Repair, we understand that when trucking companies are down, they're losing money. That's why our team specializes in mobile repairs–so you can get back on the road as soon as possible and minimize your losses. Our team is experienced in fabricating custom solutions quickly and efficiently, so if you ever find yourself broken down or in need of assistance on the side of the road don't hesitate to give us a call at (928) 399-7867. We carry parts for many brands including Mack, Peterbilt, Kenworth, Iveco and International. But even if we don't have what you need on hand, we can usually get it within 24 hours.
Electrical
At Flagstaff Onsite Truck Repair, we pride ourselves on employing the best and most experienced technicians specializing in electrical repairs for commercial trucks. Services we provide include wiring, batteries, lighting reefer units, etc. No two customers are exactly alike, so we offer custom solutions to meet their needs. Quality service is always our number one priority–it's what sets us apart from other mobile truck repair companies. Any size job–big or small–Flagstaff Onsite Truck Repair will get it done quickly and efficiently so you can be on your way as soon as possible. Call us at (928) 399-7867!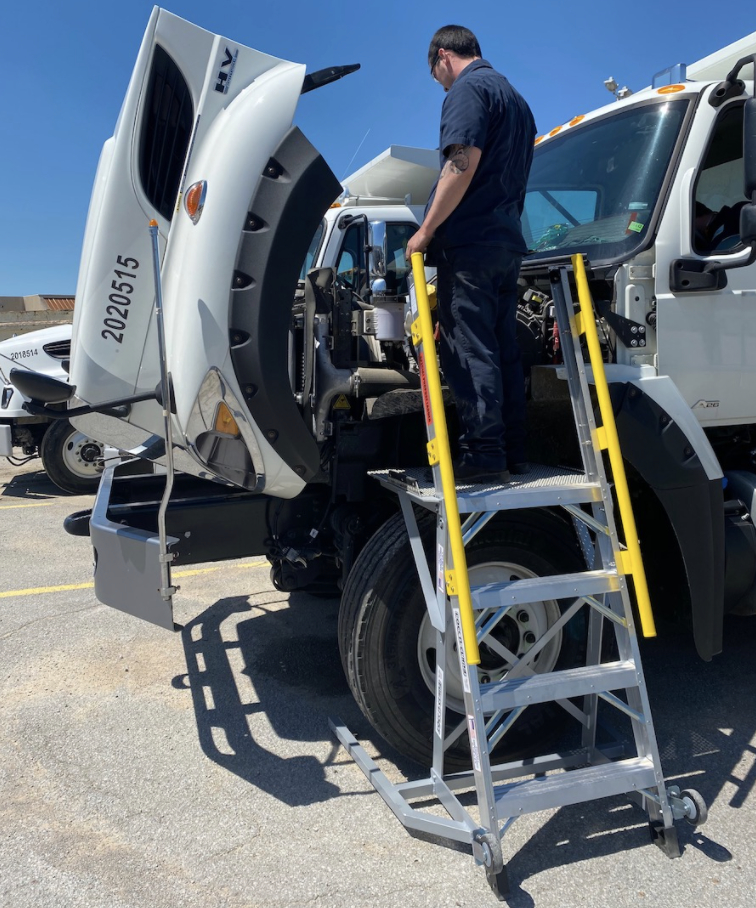 Contact Us Today
Contact us today at Flagstaff Onsite Truck Repair for all your truck needs. We provide the best service in town and are always available to help. Our team of experts is ready and waiting to partner with you to ensure that your truck is running smoothly. So don't wait any longer, give us a call today at (928) 399-7867!